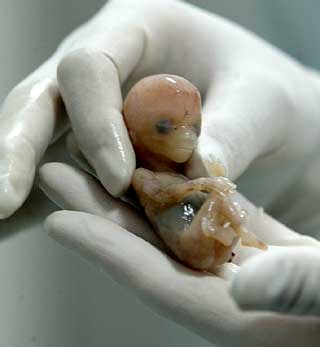 Arturo on the death of (baptized) infants
:
However, it is the ancient Church herself who tells us that baptized children who die before the age of reason have a sure pass into Heaven to stand at the right hand of the Throne of God. It is the Church herself who commands that the Mass of the Angels be sung at the death of such a child.
If you subscribe to this twisted sense of morality, then let me tell you how you can be a hero. Go out, baptize as many infants as you possibly can, and murder them forthwith. Sure, you will spend an eternity in hellfire, but for this sacrifice, you will have delivered "a sure pass into heaven" to hundreds of otherwise corruptible souls! Perhaps you will find it sad that these children did not grow up to live life, but what's a finite life full of suffering and temptation next to an eternity of bliss?
Besides, you should be
rejoicing over death
because it's not a tragedy but rather a sign of God's goodness. You're thinking too much. You should be more like good, "simple" people.
"It is worth contemplating how the modern mentality can only see tragedy in the death of an innocent child, and how other, more 'simple' people can see the same phenomenon as an illustration of God's grace and power."
UPDATE: Never google image "dead baby." I lasted 3 seconds. God damn disgusting.