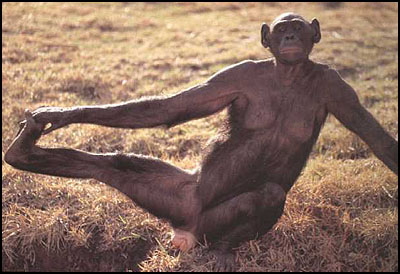 Eerily human, eh? Looks straight out of the Uncanny Valley.
On QI, Stephen Fry presented the little factoid that only humans respond to the pointing gesture. Animals, like dogs, just look at the finger and not where you are pointing.
Well, as any dog owner can tell you, this is balderdash. Sophia has mastered this gesture quite well. And just the other night, I caught a program on dog evolution and intelligence in which a researcher came to the 'surprising' conclusion that dogs, unlike chimpanzees, respond to the pointing gesture.
Well, this is balderdash too! Chimpanzees are orders more intelligent than canines. Not only that, but I have seen
Bonobos
, a close relative of the chimpanzee, use the pointing gesture. I have no doubt that chimps can learn and use it too.
"Learn" is the key word here. If you point to something for a human baby, I'd bet dollars to donuts the baby will either look at your hand or not respond. A baby needs to be trained just like any other moderately intelligent animal.
In the program, it appeared as if the researchers had spent no time trying to teach their chimpanzees to point and understand pointing. Then they used pet dogs that were no doubt already trained by multiple years of human cultural reinforcement.
I'm not an animal behaviorist, but these mistakes seem infantile. And they annoy me.